WARNING
The blog you are about to view may contain content unsuitable for the thousands of HR professionals with an Employee Engagement job title. We apologise in advance for any distress this may cause.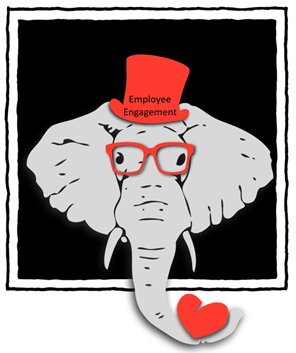 The Elephant in the HR Room
There's usually an elephant in every room. And right now, the biggest one that we need to talk about in the HR room is the one wearing the Employee Engagement hat. Now, this probably seems a bit of an odd statement, so to make sense of it, let's start at the very beginning – what exactly is Employee Engagement?
Well, that's easy to answer, isn't it? Employee Engagement covers a broad set of activities that we undertake as professionals to improve our business using employee feedback, ensure our workforce feels meaningfully involved in the organisation, and help everyone understand how their efforts contribute to our strategic goals.
Or something along the lines of this.
But hang on a minute. A quick search on the internet reveals a slightly different perspective on this:
Gallup defines employee engagement as "the involvement and enthusiasm of employees in their work and workplace."
Forbes describes employee engagement as the "emotional commitment the employee has to the organisation and its goals."
SHRM's take on employee engagement is that it is the "degree to which employees fully occupy themselves in their work, as well as the strength of their commitment to the employer and role."
And good old Wikipedia tells us employee engagement indicates the extent to which an employee is "fully absorbed by and enthusiastic about their work and so takes positive action to further the organisation's reputation and interests".
So, what is this telling us?
We're clearly looking at a set of definitions that centre around the employee's perception – their role, their place in the workplace, their relationship with the organisation, and their understanding of the contribution they are making to the organisational goals.
According to these definitions, employee engagement is largely an employee state of mind issue. This suggests that all of our efforts, as leaders, around employee engagement need to be viewed from a lens that puts the employee at the centre rather than on the outskirts of the employee engagement dilemma.
And yet, many leaders that we speak to see employee engagement as a set of activities, or a plan or a programme that leaders devise and undertake to engage better with their staff – always with the best of intentions.
But herein lies the problem. When seen through this lens, your people simply see employee engagement as something that is done 'to them'. They perceive themselves as being the 'subjects' of engagement initiatives: activities that they are subjected to at a time that suits the organisation, rather than at a time that will help each individual most meaningfully.
They are not the drivers, or facilitators, of an improved relationship between themselves and the organisation – instead, they see themselves as merely a means to an end of the organisation itself.
The Other Person's Shoes
The problem with all of this is that we may be in grave danger of creating an environment that achieves the exact opposite of what Gallup, Forbes, SHRM and Wikipedia describe.
I've learned in 20+ years as a business leader that two people can look at precisely the same thing and see something totally different.
What I see as (often significant) effort in our businesses to engage with employees and make things better for everyone is not always seen in that same light by those at the other end.
I decided to do a little test of this with a few people from across the businesses that I work with: when asked the question, "What do you think employee engagement is, based on your own real-life experience?" a small selection of the feedback I received included:
"…the surveys you send us now and again?"
"….when you get us together for events and other talking shop things."
"…things like the Friday afternoon communication meeting and the emails you send us to keep us updated with changes?"
This clearly wasn't what I was hoping to hear as a business leader.
And what happens when employees perceive employee engagement, primarily or solely, as a set of 'things that are done to them'? Well, luckily, employees are giving us clear insight on this:
According to a recent poll referenced by Forbes, which sheds light on the hidden drivers of 'The Great Resignation', nearly half of respondents (45%) say they don't believe their feedback leads to meaningful change.
Ouch!
We find ourselves in the middle of the most challenging 'War on Talent' in a generation. The latest news on UK jobs shows that there are not enough people to fill vacancies for the first time in many years – which is in no small part due to pandemic induced work disengagement. And against this challenging backdrop, 45% of employees don't believe that what they have to say will make a blind bit of difference to the direction that the organisation will take to boot.
So, what has gone wrong?
Our People are Amazing
Luckily, our employees are giving us a very clear steer on this too:
According to Gallup and Accenture, whilst engaged and involved employees are 59% less likely to seek out a new job or career in the next twelve months, 31% of those people who do leave will do so due to lack of empowerment.
So, there we have it, in black and white. Our workforce wants to be empowered; they want to be told that they are amazing and can achieve great things in our organisation. And if we can't create an environment with the suitable foundational characteristics to support this, we are being told very clearly by them what to expect from the Great Resignation.
We need a paradigm shift that moves away from the old way of thinking about employee engagement and shifts to a new approach centring on employee empowerment.
What does an empowered workforce look like?
A Clear Line of Sight: Most people have ideas on how to improve their day job. But an empowered employee will know exactly how their ideas will positively impact the wider business while achieving a greater sense of purpose from their efforts.
A Creative Mindset: Creativity is widespread across every workforce, from leaders to front-line workers. With the proper support from management, the creative mindset of employees can drive meaningful change that enriches their daily work and contributes to business imperatives.
Local Ownership: Nobody can drive process, service, and product improvements better than the people who deliver them daily. By moving from a centrally planned to a local ownership model, local teams will take greater pride in their work and help their team and the organisation realise, rather than miss, more opportunities,
A Trusting Environment: Two-way trust between leaders and employees is a cornerstone of workforce commitment, accountability, and performance. A transparent framework that helps leaders and employees follow through on their promises to each other is key to building that trust.
A Focus on Outcomes: A focus on outcomes is essential for everyone – from employees, team, business unit and the organisation's bottom line. A management focus on achieving, sharing, and celebrating results – even from those with failures that provide key learnings – will prove to the workforce that their feedback drives change.
The Time for Change?
So, if the collective definitions of employee engagement, as described by Gallup, Forbes et al. are the real end goal, is it time to think about how we change the perception of our workforce about employee engagement from being something that we do to them, to something that is part of them?
Let's adopt the use of more appropriate language to start that shift in mindset. Let's stop talking about employee engagement and start talking about employee empowerment.
And circling back to our tongue in cheek warning at the start of this blog (we hope it didn't stop you from reading!), isn't it about time that our job titles better describe what we are, or should be doing.
Here's to the future of the Head of Employee Empowerment!