Ideas that deliver real business benefits, with guaranteed ROI
How do you capture all the insights and ideas your employees have and use them to deliver tangible, measurable results? Results that put a smile on everyone's face, even the FD!
How do you drive a culture of empowerment and innovation across your organisation, where even the most cynical folk are contributing and helping to drive things forward?
smartcrowds IMPACT helps you do all of these things, and more. Using your organisational goals as the starting point, the IMPACT platform gives you a series of powerful tools to capture ideas, identify the most impactful ones and, crucially, help you take them all the way through to implementation.
So your employee engagement programme goes from a meandering path with no end in sight to a turbo-charged highway that constantly delivers results.
In fact, we're so confident that smartcrowds IMPACT will deliver for you that we give you a unique guarantee – if you don't generate at least 10 x your investment in the platform we'll give you your money back. No ifs, no buts, just a guarantee that smartcrowds will make a huge, positive impact on your organisation.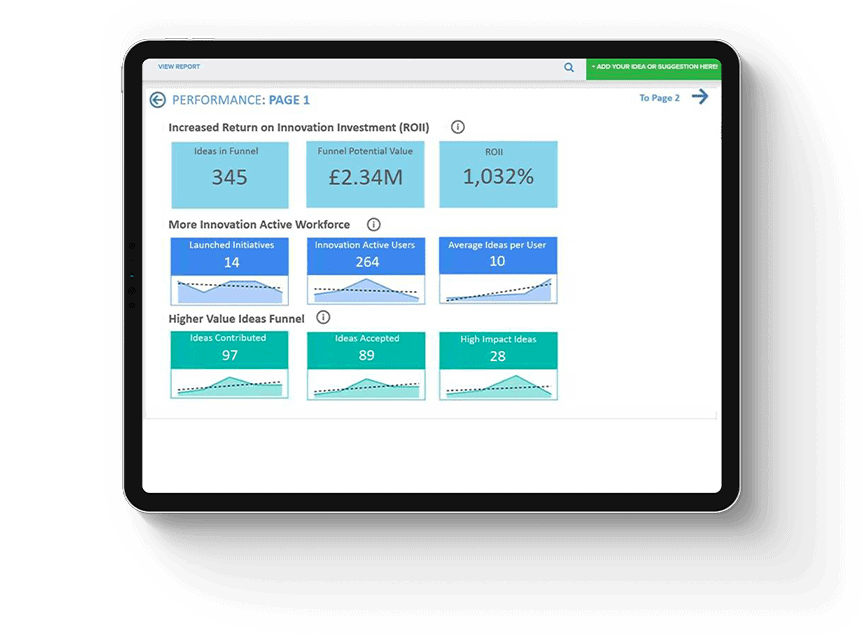 Get more results, faster
Whether your goal is to find that new, game-changing product, or just to give your customers a bit more of a warm, fuzzy feeling about your organisation, smartcrowds helps you identify and deliver the things that make the biggest difference.
But don't just take our word for it:
smartcrowds helped us generate a 17% efficiency improvement in the first 12 months, and is on track to deliver 23% in year two.'
Gareth Biggerstaff, CEO Be-IT Resourcing
smartcrowds has robust capabilities with extensive experience of providing secure cloud-based solutions for the challenge we face. It is extremely flexible and integrates ideas progression with ideas growth via project execution supported by configurable reporting to enable data driven decision making.'
Nikita Sinha, Head of Technology Acquisition, Marshall Aerospace and Defence Group
At Lancashire Teaching Hospital NHS Trust, we embrace the need to continually improve and innovate to deliver better patient outcomes. We recognised that to do this effectively we needed an always-on, multi-device means of engaging with our staff and partners across Health Delivery, Third Sector and Education to identify ideas that address challenges within the NHS and manage them from inception through to benefits realisation. smartcrowds gives us the tools to manage the full idea lifecycle and help deliver those better outcomes.'
Paul Brown, Head of Research & Innovation, Lancashire Teaching Hospital NHS Trust
A unique 360° approach
smartcrowds IMPACT takes a 360° approach to employee empowerment. While most platforms stop at idea generation, or a bold few go as far as identifying the strongest ideas, we go even further.
smartcrowds helps you test, validate and, ultimately, implement the very best ideas, making it easier and quicker for you to enjoy the benefits they will bring. And the platform completes that 360° loop by using feedback and lessons learned to make every subsequent round of idea generation and implementation even better than the last. It all adds up to increased momentum, faster go/no-go decisions and reduced risk of failure.